A full spectrum of all 9 Essential Amino Acids to help you train, recover & crush it daily.
INCLUDES VITAMINS

B6, B12 & C
Why All9 Amino?
This might become your most important training product. Effectively maintaining and building lean muscle mass requires all nine essential amino acids (EAAs). Ensuring your diet has all nine EAAs can be challenging, so Dymatize developed All9 Amino—our most complete amino acid powder blend for optimal muscle protein synthesis (MPS) and training recovery support.
All9 Amino is the full spectrum of all 9 essential amino acids.
All Dymatize products are rigorously tested for quality to ensure that nutritional levels stated on the label are in the bottle.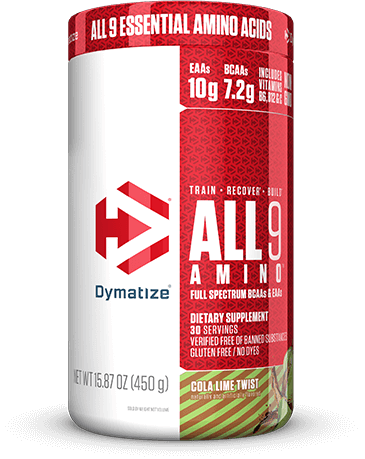 10g of Essential Amino Acids per serving. 

Essential Amino Acids are the amino acids that human bodies cannot produce on their own and MUST be provided through food and supplementation.

7.2g of Branched Chain Amino Acids (BCAAs). 

Proven to help build muscle and aid in recovery.

Also includes Vitamins B6, B12 & C.

Non-GMO.

Enjoy a variety of delicious and refreshing flavors Pre, Post, During workout or anytime of the day.